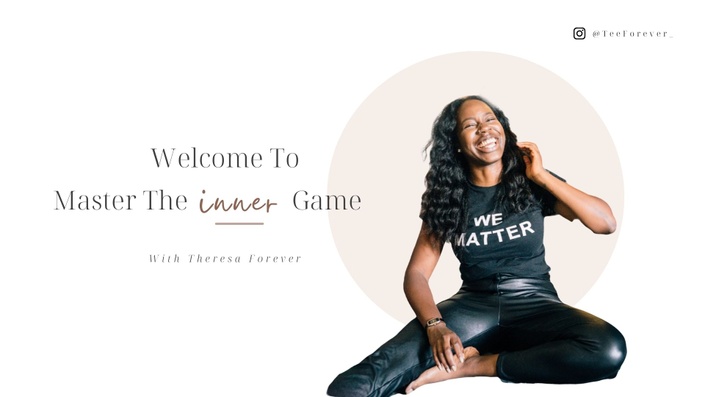 How to Master The Inner Game of Goal Achievement
Stop Dreaming, Start Doing
"There is a price to pay to make the changes you want in life.
There is also a price you're already paying for staying the way you are.
You have to weigh these two prices and decide what to do
based on that comparison and no one can do that for you."
- Bill Harris
Listen to me.
Your goals are possible. No matter how many times you've tried and failed, no matter how many people disagree with you and tell you to keep your 9-5, no matter how big and unrealistic it might feel sometimes. I believe that you're able make it happen if you commit to the process.
Good News,
Life is predictable!

Your position in life right now isn't by accident. And who you are is a summary of all of your beliefs. The current quality of your relationships, finances, and mindset is a reflection of the choices you've made. There is no hocus pocus, secret formula or need for divine revelation when it comes to predicting your future. Your choices determine your future. It's that simple.
This 12-Week program is designed to help you:
1. Become more self-aware so you stop doing the things that aren't working for you.
2. You'll learn how to create a realistic routine that leads to the results you want without having to make major adjustments in your daily schedule.
3. Develop your self-confidence so that you can conquer the world.
I will help you clarify your goals and establish self-discipline.
Bonus:
I'll not only give you the transformational resources you need to make the transition, I'll also teach you how to create a routine that leads to exactly where you want to be 6 months from now, 1 year from now, 5 years from now.

We'll design a custom step-by-step process for you to maximize your life
and begin living your goals and the things you envision for yourself.
A farmer never plants seeds, then waters it a few times, and then expects a healthy crop to flourish and multiply itself while he tends to it once a week or once a month. If a farmer tried this they would reap spontaneous results having a few good crops here and there, but nothing sufficient enough to establish a solid stream of income or provide food for themselves.
Likewise, you can't expect continual progress and bountiful results when you don't commit to the process.
If maximizing your life means launching a business, or taking care of your body and mind, or simply becoming financially responsible then you must create a strategy, also known as a plan to execute your work. Then YOU must execute it. It's simple, but....

Raise your hand if...
You actually follow through on your goals consistently?
-----------------
Inconsistent effort IS better than no effort, BUT it doesn't bring you the results you desire. In order to get maximum results you have to apply maximum effort. I'll help you do this.

Why? Because I use to be where you are.
I use to constantly dream of everything I was capable of doing and the kind of impact I could have. I would create A LOT of plans, I even had plans for plans THAT'S how much I planned lol. I had the strategy down pack. Everything was good to go. My GREATEST weakness was that I lacked consistent follow through.
I promised myself "this time it's going to be different. This time, I'll get it done" but I would habitually break my promise to myself. I would often get lost in entertainment, socializing, and sometimes even working. I was quick to accept invitations to go out with friends even if it meant breaking my commitment to myself. I allowed other people's priorities to take precedent over mine.
While I was living in this cycle I would get inspired by some of my friends, mentors, and colleagues. They were venturing out of their comfort zones and maximizing their lives. I was so happy for them, I would cheer them on every step of the way while reminding myself that I'm capable of producing the same results.
Allow me to reaffirm something for you
Your lack of progress doesn't make you less amazing than anyone around you.
If your choices have gotten you to where you are, then your choices will get you to where you want to be. Improve your mind. Improve your life.

It doesn't matter what your goal is
I'll teach you how to get there.
With 6 personally customized coaching sessions
over the next 12-weeks we'll walk through:
1. Learning what you were designed to do, answering questions like "what do you constantly envision yourself doing, but you haven't started yet?"

2. After discovering your passion, we'll shift from knowledge and good intentions to practical implementation. You will become who you need to be in order to build your empire.
3. This is where, we start building your empire! By now you'll have the confidence to start crushing your goals and we will start knocking down domino's that lead you to getting the big picture results you want.
This Course Includes:
- Self-Awareness
- Emotional Intelligence
- Identifying Your Purpose
- Character Development
- One-On-One Coaching
- And much more!
Online Meeting Outline:
Week 1-2: Digging For Purpose & Developing Your Self-Awareness - 1.5 hours
Week 3-4: Ready (Prep & Development) – 1 hour
Week 5-6: Set (Research, Studying Your Industry) – 1 hour
Week 7-8: Go - Out Of The Nest - 1 hour
Week 9-10: Consistency (Review) - 45 mins
Week 11-12: Recycle - 45 mins
Your Instructor
Frequently Asked Questions
When does the course start and finish?
The course starts now and never ends! It is a completely self-paced online course - you decide when you start and when you finish.
How long do I have access to the course?
How does lifetime access sound? After enrolling, you have unlimited access to this course for as long as you like - across any and all devices you own.